Inficon IC/5/6 Data Logger/Plotter
The free FTG Software IC/5 Data Logger (IC5dlog.exe) for Windows continuously acquires data during deposition. This enables users to troubleshoot coating runs and develop improved techniques for high yield deposition. A separate version (IC6dlog.exe) supports the IC6. The download includes a single plotting program (IC56plot.exe) which works with both IC/5 and IC6 data. These versions work under 32 and 64-bit Windows. A previous 16-bit version is no longer supported.
CLICK HERE to download FtgFree32.exe (12.1M) to your download directory. The installer also includes the FilmStar DESIGN Free Version.

Run the program to install IC/5 and IC6 Data Loggers and Plotter . A password is required during installation. CLICK HERE to obtain a password.

Users outside the USA may need to set Windows to recognize ',' as thousands separator, '.' as decimal point and ',' as list separator. This is recommended for improved compatibility in general, especially for Excel users.

Please contact FTG Software if you have problems and questions.
---
The program is simple to operate. Use Setup to specify baud rate and COM port (IC/5 & 6) or LAN IP address (IC6 only). Use Select to specify quantities to be captured (IC/5 only). Enter a valid file name (program will create a new file if it doesn't already exist).

Settings and the datalog file name are automatically retained in c:\windows\ic5dlog.ini or ic6dlog.ini when you exit the program. You can use the IC/5 and IC6 off-line in test mode to generate trial data.
Set IC/5 RS-232 Checksum to YES (does not apply to IC6)
A straight through (M-F) RS-232 cable is utilized, not a null modem cable. If using a LAN connection (IC6 only) a crossover cable is required.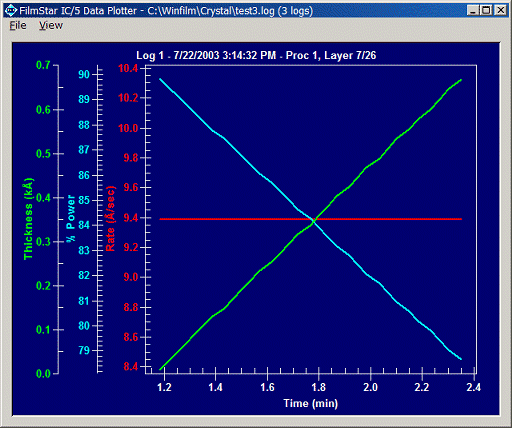 IC/5 Test Mode Output
Copyright © 2018 FTG Software Associates
Last updated on January 01, 2018